One of the most wonderful things about crochet(and there are many) is its versatility. We can make anything from intricate, delicate laces to warm-and-toasty afghans, from stylish apparel to practical household accessories, all with the same basic stitches. It is as simple as changing our hook sized and working material. And then you will need a simple easy crochet pattern to work on.
As a matter of fact, it is fun to experiment by taking a pattern stitch or motif that has been worked in a material from one end of the spectrum and working it in something from the opposite end. A little thread crochet flower worked in worsted weight yarn might become part of a lovely floral afghan; conversely, a flower motif from an afghan could be the source of inspiration for a dainty doily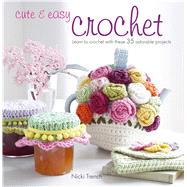 It is amazing what changing the type, color, or weight of yarn can do. Sometimes the results are extremely rewarding, and other times it is disastrous. But even the disasters serve a purpose because we learn from them and often times they serve as an inspiration for a later triumph.
Several years ago, a publication designer designed a sweater pattern for a lovely textured sweater from a simple easy crochet pattern. Later, a disgruntled crocheter complained that there was obviously something wrong with the instructions because her sweater looked nothing like the picture, and she sent a swatch of her work as evidence to the designer. Actually, the instructions were absolutely accurate, but one look at her swatch revealed the source of her problem. For a sweater that had been worked in a simple, smooth, sport weight yarn, she chose a lovely chenille; its rich texture completely obliterated the pattern stitch.
So if you are going to experiment by substituting one thread or yarn for another, play with some of those scraps of thread or yarn that you have stashed around the house before you to out and invest a small fortune in a yarn or thread that is not the called-for material. If you do not have a mountain of odds and ends to choose from – and what self-respecting, die-hard crocheter doesn't – then go out and buy just one skein for experimental purposes only. If you like the results go back and purchase all you need for your simple easy crochet pattern; if you don't like, file it away and remember what you have learned.
Most of us make mistakes when it comes to crocheting, but all of learn something new every day. To help with the clutter, purchase clear plastic freezer storage bags or a storage bin, they are excellent for storing all your triumphs and disasters. Be sure to attach a tag to each swatch giving pertinent information, i.e., hook size, type of yarn or thread and the instructions for the pattern stitch. Then punch holes in the edge of the bag and file it away in a large binder for future inspiration.
Enjoy a good Experiment with some of these hooks below, and see what develops.